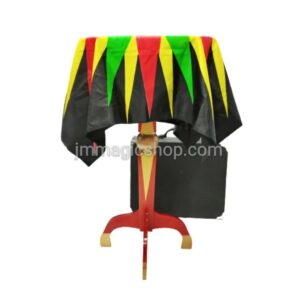 Highlights:
Floating desk is magician's favorite hints around the sector, from the ultimate 20 years it's miles available in unique exceptional and outcomes. This extremely good Deluxe model is extremely lightweight, superbly crafted and decorative.
The table seems to be definitely ordinary. Looks like some thing you would possibly discover inside the access corridor of a stately manor. Cowl the desk with a stunning foulard. Then, collectively with a spectator or via yourself you may make this desk float. It seems amazing. You may do it absolutely surrounded! The special gimmick makes it clean to do. It looks like the table is actually floating! The desk is flawlessly balanced and is a dream to apply.
This version comes with additional Gimmicks for Floating Anti-gravity Candle/
Table fabric (double layered): provide your desk with a stunning outlook, also hiding the gimmick interior.
Anti-gravity Candle: permits you to permit go of the desk with out contact the table fabric.
Plus the wearing Flight case allows you to hold it competently in transportation.
Weight about to 425g (desk best)
Fantastically completed with special wooden.
Comes whole with case, fabric, and simple effect coaching Video hyperlink
Comes aside for shipping,
May be completed surrounded and below any conditions
May be executed underneath any lighting conditions.
Note: The desk is extraordinarily lightweight and devoted, cope with it carefully even as setup and overall performance, we are not responsible for any in addition damage caused by you in setups or performance.